Currently Galaxy Note 4 – one of the most powerful in the world of smart phones. Its model SM-N910C is made and based on the latest SoC production Samsung – Exynos 7 Octa 5433. In the previous generation Galaxy Note 3 it had crystal Exynos 5 Octa 5420, created with the less restrictive design rules (28 nm against 20 nm), which affects its performance and energy consumption.
Architecture of chip Exynos Octa 7 5433 – big.LITTLE GTS (Global Task Scheduling) – also includes eight processor cores, four of which are high, and the remaining four – energy efficient. However, at the same time, place cores ARM Cortex-A15 and ARM Cortex-A7 took ARM Cortex-A57 and ARM Cortex-A53, respectively, operating at a maximum frequency of 1.9 GHz and 1.3 GHz, respectively. The main difference between the new kernels is that they are based on a 64-bit architecture ARMv8, of course, with full support for existing 32-bit applications. Performance, they are said to have about 50% higher than their predecessors. Recall that support heterogeneous multiprotsessing allows you to use all the cores of the chip at the same time. For graphics processing chip has a special accelerator ARM Mali-T760 MP6. Six powerful execution units operating at frequencies up to 700 MHz, enabled it to gain a reputation as one of the fastest in its class. The basic configuration of the device complements the 3 GB of RAM. 8-core processors with graphics accelerator cope with the high-resolution screen without any problems.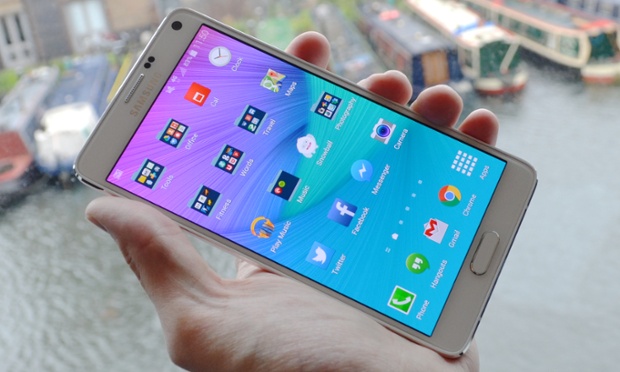 On synthetic benchmarks AnTuTu Benchmark 5.2.0 new phablet the Galaxy Note 4 looked the most impeccably. Received the title of "monster" and typing 49839 "virtual parrot," note that the Galaxy Note 3 scored around 35 thousand only.
In benchmarks Vellamo 3.0 with multi-core tests (MultiCore) Galaxy Note 4 in the lead with a score of 1883 points, but ie was only the second in the evaluation of "horsepower" on the CPU test (Metal), yielded "killer flagships" OnePlus One (1570 vs. 1653).
On the visual test Epic Citadel at variable settings, High Performance and High Quality (performance at the expense of quality and vice versa), the average frame rate to permit 2560 x 1440 points differed in importance only after the decimal point – 58.7 and 58.5 fps. Changing the settings on Ultra High Quality predictably reduced the value of this parameter (up to 46,8 fps).
Galaxy Note 4 comes with 32 GB of internal memory but available approximately 24.4 GB, which can be extended for another 128 GB with cards microSDXC. Besides, external flash drives can be easily connected via OTG USB-cable.
For the communication with outer world, Galaxy Note 4 is fully powered: 2-band Wi-Fi-module 802.11 a / b / g / n / ac (2,4 and 5 GHz), Bluetooth 4.1, ANT +, Infrared, NFC. Furthermore, Galaxy Note 4 may operate mobile networks LTE (Cat. 4). Incidentally, we note that the use of Bluetooth 4.1 reduces interference from LTE in adjacent frequency bands.
What else you can expect from a device like this? Galaxy Note 4 is itself a whole new world of entertainment and fun to be discovered. And it forces us to think, if the present limits are like this, then what would be the future limits in upcoming Samsung devices like Galaxy S7.