The competition among the various android sets is already getting closer day by day. There is no doubt about the fact that Samsung has already got a huge success story as per the mobile handsets are concerned. Now Hyundai is taking inspiration from Samsung for their new tablet which will be launched in the first half of this year.
The name of this new tablet of Hyundai will be T7. The sale price of this tablet is not going to be very high. It will have a 4412 quad core chip in it. The screen will be about 7 inches. The handset will be faster for sure as it will have 1GB RAM. Mali 400 GPU and resolution of 1280 x 800 in the screen is going to make the display extremely eye catching.
However as per the dimension and chip used in this tablet is concern, people are finding similarities of Galaxy Note 8.0 with this handset. The Android version will also be extremely good in it.
It will have an android version of 4.0.4 in it which is quite satisfactory. However, as per the opinion of some of the experts is concerned, they have taken many a feature from Samsung, and it can actually make it a competitor for Samsung itself as they are going to launch their new handset Samsung Galaxy S4 this year.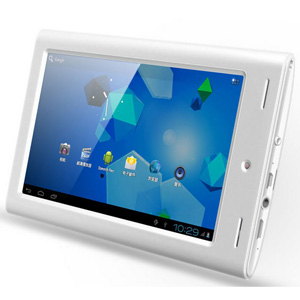 However, the best thing what you can consider about this tablet is its price. The sale price of this Android tablet will be only $200 which can be considered as extremely cheap. In fact it will be cheaper than most of the brands like Samsung, Apple or LG.
Now the market of tablets is extremely competitive and price is undoubtedly one of the most considerable factors for the customers before buying a new tablet. Hyundai is surely going to surprise their customers with a much cheaper price which will be easy affordable for them.
Now, the similarities which this tablet has with the tablets released by Samsung are clearing one thing, that Hyundai is trying their best to capture the market which is now mainly dominated by Samsung, Apple and LG.
The high Android version is also going to help its higher sale. Android version now also plays a big role behind the sale of a lot of handsets and tablets. However, one thing is quite sure that if Samsung now targets to undercut Nexus 7 of Google they are surely going to get some competition from Hyundai because of this new launch from them.
However, on the other hand Hyundai has to fight a lot also to get a good position in the mobile market. The lesser price will go for their more sale but the features will also be compared. It may be for this reason that Hyundai has taken inspiration from Samsung who is already successful in this field. In that case the processor which Hyundai is going to use is quite good. Its version of Android is also quite satisfactory for most of the customers.