Building an incredible racing simulator setup is the best way to take your gaming to the next level. Here's what you need to build a setup that will put you right in the race.
2017 was one of the best years of racing games. It brought a lot of games like F1 2017, with returning classic cars with new and improved AI. With the year almost halfway through, it's going to be difficult to follow up these games.
If you're not the kind of person who plays games on their phone, you might get a more fulfilling experience if you have a racing simulator setup.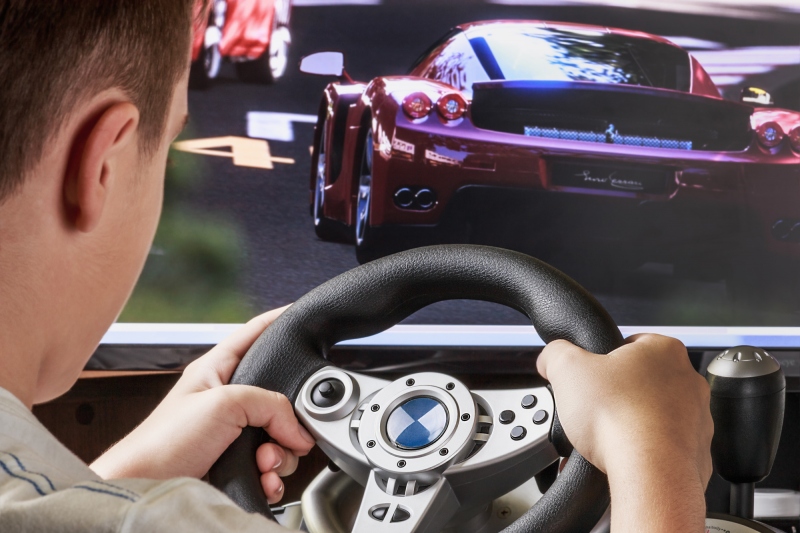 If you're new to sim racing, it's almost overwhelming for you to know how to get the best setup in your living room. When it comes to the things you need, here are some things you should pay attention to:
Steering Wheel and Pedals
When it comes to this, it can get tempting to get hardware priced below 100 bucks. However, it's not a good practice when you want to make the best driving simulator setup. The typical ones you get at this price will have plastic housings coupled with bad force feedback.
Some of these might not hold up well when your hands get sweaty while playing an exciting race. Bad pedals often don't feel real enough and can break easily. In other words, getting anything below 100 dollars isn't fit for serious gaming, let alone competing.
If you need the bare minimum requirement, you can use a Logitech steering wheel. At the moment, you can choose between the Logitech G29 and G920. The former is best for the PS3, PS4, and the PC while the latter is for the Xbox and PC platforms.
When you have money to burn, you can opt to buy the high-end gear from Fanatec. It provides the best experience because its steering gives the most accurate force feedback. In addition to that, its pedals have adjustable oil-damped brakes coupled with a clutch.
The Rig: To Build or To Buy?
When it comes to this question, you need to consider your technical skills and your available tools. If you have the sufficient know-how and a great set of tools and resources, go ahead and build your racing game setup.
The internet provides a limitless number of manuals, blueprints, and other resources that can help you on the way.
For a home project, wood is the best material to build the rig with. The reason behind it is due to the fact that it's easy to work with and has stability. However, if you have more disposable income, you can use carbon to get the most out of your setup.
If you choose to buy rigs, there are many brands out there that offer foldable rigs that can fit your budget. One brand is Playset, which has a realistic driving simulator with an F1 flair that allows you to lie down more.
PerfectSimracer has more information when it comes to the best brands to help build your rig.
Things to Look for Whether Buying or Building a Rig
When you're trying to get a rig, you need to look for these qualities:
Extensibility
Space Requirements
Stability
Wheel and Pedal Compatibility
To know if the rig you're buying or building fits these criteria, make sure to do your research. If you're buying, check reviews on the internet. A lot of people are vocal when it comes to voicing out their positive or negative experiences with the rigs you're looking into.
Extensibility
When picking your rig, think about your future investments in your home. Are you going to fix a screen onto the rig? Will you ever invest in a multi-screen setup for more immersion?
If your answer is yes, you might need to use an H-pattern shifter. Otherwise, you can settle for a simpler setup involving a monitor desk mount.
Space Requirements
If there's one thing everyone can agree on, it's the fact that all sim racing rigs require a lot of space. Keep in mind whether you'd want it to be a static setup or a foldable one.
Check your living room dimensions and start thinking about the place where you can best fit your rig without disruptions.
Stability
You need to check the kind of vehicle you're going to simulate with the rig you're building. Are you simulating a Go-Kart or a Formula 1 racer? Don't forget to check the wheel and pedal weight, which affects its force feedback power.
A general rule to remember is that you'll need a heavier and larger table surface if you want to get the best out of your rig.
Pedal and Wheel Compatibility
While checking for the best rig around, don't be afraid to ask about the types of pedals and wheels compatible with it. Manufacturers often tell you about it, and they might even suggest methods to make it easier for you to make these peripherals fit.
The Ultimate Question: PC or Console?
Should you go with a PC rig or a home console?
This is one of the most important things you need to ask yourself since it impacts the overall gaming experience. It has an effect when it comes to the games you can play, the hardware you can use, and the requirements involving display.
However, an easy way to differentiate the experience is that while consoles lean more on user-friendliness, PCs can give you more immersion.
Also, no matter what you pick, you should consider the price difference between console and PC brands. For example, your choice between buying an Xbox or a PlayStation can affect the overall price of the rig.
Also, a gaming computer using high-end graphics cards and liquid cooling might be more expensive than any console setups.
Learn More About Racing Simulator Setup Today!
Sim racing is one of the most exciting types of games you can play. It makes you feel the excitement of actual racing without the ever-present dangers involved in the sport.
Playing the game in the comfort of your living room makes it an enjoyable experience that can relieve your stress while making you feel thrilled. Looking for more tips to build the best racing simulator setup and the latest gaming gadgets?
Read more of our informative posts today, like how to buy a budget gaming laptop!