Design, display and menus
Dimensions: 26.3 x 18.1 x 0.85 cm
Weight: 598 grams
Display: 10.1 "Super IPS +, 1920 x 1200, 600 NITS brightness, Corning Gorilla Glass 2
Shortcut keys: On / off / screen lock, volume up and down
Input and output: Proprietary lade, micro-HDMI, mini-phone 3.5 mm, Micro SD Card Reader
Menu System: Android 4.0.3 Ice Cream Sandwich
Firmware: IML74K.WW_epad-9.4.5.22-20120615
In short:
Pros
– Very good screen with high resolution
– Possibility of smart keyboard dock
– Slim and stylish design
– Good user interface with customizable
Cons
– Get your tablet-optimized apps for Android
Asus Pad Infinity can be expanded with a keyboard that turns your tablet into a fully fledged laptop. Long Edge of Infinity Pad has a proprietary charging connector and two holes on each side which is used to attach the keyboard, which can be bought as additional accessory. Asus Transformer Pad Infinity is 0.85 thin and a very sleek device.
Asus Transformer Pad Infinity (TF700), according to Asus the first Android tablet comes equipped with a screen that can handle full 1080p HD. As the main tablet also comes with a very powerful Tegra 3 system chip with four processor cores at 1.6 GHz, and it just like Transformer Prime as the tablet can transform to your laptop, then it is not surprising that this is a tablet with which many would have very high expectations.
But will Asus manage to live up to expectations? Our test shows that Asus stays best in many areas, but your tablet still has a few annoying shortcomings.
Slim and stylish design
We have in this test is only seen on the web tablet, not the keyboard docking is optional. However, we have tested this on Asus Transformer Prime and Asus Transformer Pad, and this is a concept we really like. The tablet attached to the keyboard dock with a sturdy mounting mechanism, and you are an Android based laptop. And since the keyboard also includes the battery, increasing battery life from 9.5 to 14 hours when you have the keyboard on.
The tablet is only 8.5 millimeters thick, almost like Transformer Prime. Design-wise, we think Asus Transformer Pad Infinity is an elegant web tablet that you definitely do not need to be ashamed of taking forward while sitting on the train or in a meeting.
The weight is 598 grams, which is 54 grams lighter than the latest iPad. Samsung's new Galaxy Tab 2 with 10.1-inch screen weighs 588 grams and is thus 10 grams lighter than Infinity Pad again.
The back of your tablet is made of colored metal, and has circular grooves radiating from the center of the tablet, the Asus logo is located. Metal surface so that your tablet seems solid, but we found that the metal surface after only in a few weeks of use was giving a slightly worn appearance on the edges and where the tablet is lying down on a table surface, as if the color began to wear away. The surface could take obviously not so good to be taken up and down by a backpack and be pushed around on the table – which must be characterized as quite normal operation of a tablet.
On one long edge of your tablet is a proprietary charging connector similar iPad charging connector. On each side of the charging connector, there are two holes that are used when your tray attaches to the keyboard docking. On the other long side is the on / off button and buttons to adjust volume.
At the top you will find a 3.5mm audio jack, a micro HDMI connector and a card reader for Micro SD cards.
With a screen resolution of 1,920 x 1,200 pixels, there is no problem to read even the tiny font in  e-newspaper, without having to zoom in.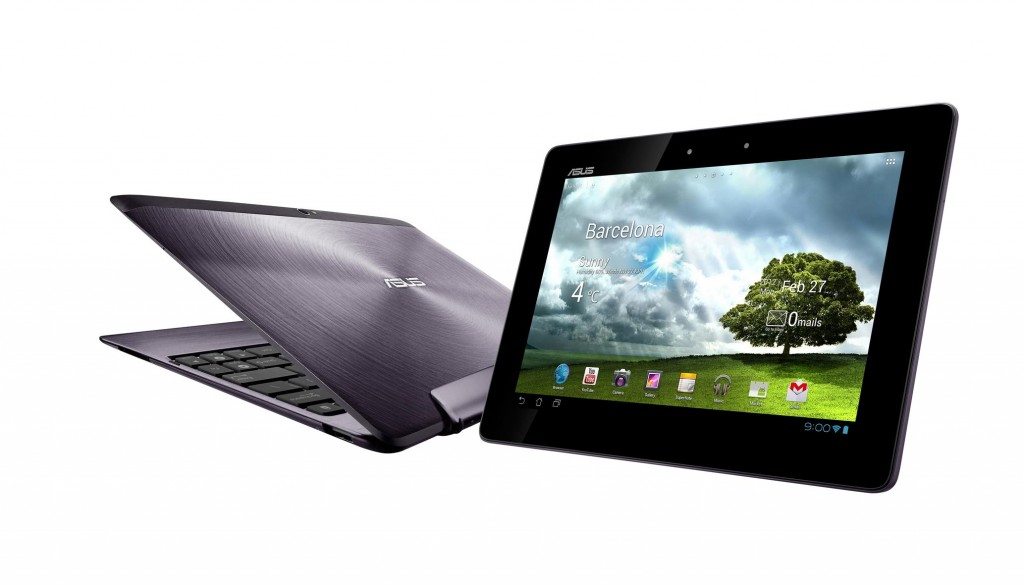 Very good video
Part of what makes Infinity Pad to stand out from the competition, is the screen. With a resolution of 1,920 x 1,200 dots shall be the most high-resolution screen of any Android web tablets. The resolution is still not on par with the Retina display in the latest iPad, which are 2048 x 1536 pixels. But with a pixel density of 224 dots per inch, compared to 264 on the iPad, Asus is not so very far away.
The fact that Infinity Pad also utilizes a 16:10 resolution on 4:3 on iPad, makes the Asus web tablet is suitable even better to show the formats commonly used in the film. You do not have broad black bars top and bottom. Meanwhile, perhaps 4:3 resolution better when you use the web tablet for any purpose other than the movie or certain types of games, and keep your tablet in portrait mode. The 16:10 format, the screen is quite small when you hold it in portrait mode, and there is little space in width.
The display panel is a Super IPS +, which is a type of LCD screen. IPS screens have excellent color reproduction, while the type of IPS screen Asus has chosen to be particularly bright and therefore better suited to outdoor use.
The picture quality on the screen is very good, and the screen has a viewing angle of 178 degrees. It makes you look good from the side, and the colors on the screen changes very little even if you watch the screen at an angle from the side.
Task Manager in Android 4 lets you quickly switch between the latest apps
Pressing the tray in the lower right corner you'll see buttons to adjust the screen brightness. You do not have to fumble around in the settings menus to find this, which we think is practical. You can either adjust manually, or set the monitor to adjust the brightness automatically. Pressing Super IPS + button the screen will turn on extra brightness (600 nits), so that you can use it outdoors. We tested this out on the terrace on a sunny day, and it worked quite well. However, a backlit display like this is never really good in sunlight, and also makes the glossy screen surface that there is much reflection. Thus, one is soon tired in the eyes of using such a screen in the sun. But the outdoors can be quite a lot of light even in the shade, and we noticed that the screen worked really well when we were sitting under a parasol.
The downside to having Super IPS + feature turned on, draining the battery pretty quickly.
The glass front of the screen is also of type Corning Gorilla Glass 2, which means you will work hard to be able to scratch it.
Android 4
Transformer Pad Infinity comes with the latest version of Android, version 4 – also known as Ice Cream Sandwich.
The user interface is standard Android 4, and thus simple and easy to use. You have five home screens that you can customize. When you install an app added a shortcut to the app automatically to your Home screen, in addition to the regular schedule app that you get by pressing an icon in the upper right corner. You can organize apps into folders, which can be useful if you have many apps. Drag an app over another, automatically creates a folder.
Android 4-web tablet has no physical back and home keys, but instead a line at the bottom of the screen with buttons for back home, and a button to go to the task switcher. Pressing this brings up a list of all the latest apps you have open, so you can quickly switch between them. You can also quit an app; drag your finger over it.
App selection in Google Play has become very good, but unfortunately there is still a shortage of apps that are adapted to the big screens of your tablets. There is a separate category of apps customized web tablet, but when you seek out an app, it is impossible to know whether the app is adapted to large screens until you have installed it and tried it. Here, Google has a lot to learn from Apple, which separates the apps custom mobile apps and customized web tablet, and shows a plus sign in front of the apps that are optimized for both large and small screens. Many of Android apps give a mildly miserable user experience on large screens, even if the app is not as good on an Android mobile. Facebook app is as useless on a 10-inch screen.
Asus Transformer Pad Infinity is the most powerful web tablet from Asus
Web tablet optimized apps will be continuously improved, and we also hope that Google eventually takes to the reason and find a way to mark your level-optimized apps, so that we can find them when searching for apps.
In the box:
Transformer Pad Infinity
User Guide
USB Charger
USB charging cable with a proprietary charging plug
Polishing cloth
Transformer Pad Infinity comes in a pure Wi-Fi version and a version with both Wi-Fi and 3G. We have tested the Wi-Fi model. For some reason, the two models different system chips and processors. Wi-Fi version we tested uses like Transformer Prime Nvidia Tegra 3-piece system with four ARM Cortex A9 processor cores and a GeForce graphics processor. 3G version comes with a Snapdragon S4-piece system with two Krait processor cores at 1.5 GHz each.
Asus has made it easy to switch between three different power saving modes, so you can choose whether you want the longest possible battery life or want the best performance.
Your tablet has most things you could want from technology, including among other things, support for 802.11b, g and n and Bluetooth 4.0. But there is no support for 5 GHz wireless network, just 2.4 GHz.
Our test sample came with 64 GB built-in storage, but it is also a 32 GB version. It is also possible to expand the storage with Micro SD cards up to 64GB. Memory space is in the top of the tablet and there is no cover or other protection in front of the memory card slot. We think maybe the memory card should have been protected in some way, but since there's pressed into place just inside the edge of your tablet need not be a problem that touches it and it falls out.
Take notes with finger
Your tablet comes with a good selection of apps for both work and fun. E-mail reader supports multiple simultaneous accounts, with color coding of unread e-mail from different accounts. You can view the e-mail from Gmail in the same client used for other e-mail accounts, Exchange, POP or IMAP. Are you using only Gmail, you can use your regular Gmail client that comes with every Android products.
Your tablet has a good calendar solution and a good contact directory. The calendar shows both month view and week view simultaneously and combines calendars from many different accounts.
With the program Polaris Office you can create, view and edit documents in Microsoft Office format. Polaris Office works great to open the documents you had to get on the e-mail, or to work with documents that are either stored locally on your tablet or Google Docs.
You get a whole with a good notepad app, Super Note. This allows you to take notes either as text you enter using the keyboard, or handwriting. Keeping your finger directly on the screen may not be optimal, but it may be convenient to have the opportunity to, for example, to insert a sketch. Super Note lets you also add pictures and sound recordings of your notes. All in all, this is a good notebook app, although it might not go up to Evernote when it comes to opportunities.
The onscreen keyboard is pretty good, and because of the large screen it is straightforward to write pretty fast on the keyboard without missing. Swipe keyboard, so you can drag your finger from key to key to writing. This works fine, but we felt that this feature is often made that we got the wrong word, the times we wanted to enter the words letter by letter in the usual manner. Therefore, we turned off the feature.
If you write a lot, and use your tablet as a PC, we recommend that you buy the keyboard dock. We have mentioned not tested this to this particular model, but has very good experience with it to the Prime Transformer and Transformer Pad TF300. An advantage of the keyboard dock is that you both get better battery life and more connectivity options.
Good battery life
The battery is 25 watt-hours, which will provide a lifetime of up to 9.5 hours, according to specifications. For comparison, the battery in the latest iPad is of 42.5 watt-hours. In practice, we found the battery life of Asus Transformer Pad Infinity as noticeably worse than on an iPad, even if the battery life was definitely approved. We could use your tablet quite a few hours between charges, but like other Android web tablets have the battery tends to drain quickly because of background processes. It also makes draining the battery even if your tablet is unused, in contrast to an iPad that can be virtually untouched for weeks without draining the battery significantly. Asus has a setting that is so that your tablet disconnects from the wireless network when the monitor is on, in order to save power. Struggling with poor battery life may be advisable to turn on this feature – but then you will not notice if someone, for example, to send you an e-mail when the screen is off. If you use the keyboard dock increases the battery life of 14 hours.
This message was what annoyed us most with Infinity Pad. It is particularly often on some heavy web pages, and if you're a little impatient and do not let the entire page load before you try to scroll up and down the website.
Browser crash
Spec wise the Asus Transformer Pad Infinity some of the coolest available by your tablet today, and we were therefore surprised that not everything flowed so quickly and smoothly as we had expected.
Menus, startup apps and such are usually quickly and without significant delays, but especially your web browser had a tendency to hang out a little now and then – even after we as a precaution reset everything to factory settings and checked that all software was updated to the latest version. We also turned off Flash.
We often got the message "Your browser does not answer. Do you want to close it?" Sometimes everything flowed smoothly and nicely as it should, but other times it chopped off to stop a bit. It also seems that your browser can not handle slow network connections as well, such as an iPad: When you load a heavy page, you will often not be able to start rolling up or down the page until most of the page has finished loading. When it seems that everything is for several seconds even if the text on the page is loaded, until it suddenly "loose" when all the elements on the page is finished loading. And in many cases, you get the message that the browser is not responding. We tried to open more of the same sites on both the iPad and Infinity Pad, and the difference in how responsive the browser to the iPad was in relation to the Infinity Pad was palpable. But we had a lightning fast internet connection at work, the difference was smaller.
Otherwise, the browser is pretty good, and has included support for tabs. And then there are of course other browsers to Android.
Some of the performance issues in the user interface may have to do with this version of the Android 4 to do, combine with a high resolution screen that is hard to exaggerate. It is expected however that version 4.1 of Android, Jelly Bean, will be optimized in several areas – including in terms of performance
Asus markets this tablet as an online entertainment tablet – with slogans such as "Home cinema you can hold" and "Experience mobile entertainment like never before." Our test shows that they have the words intact.
The high resolution screen in 16:10 format and excellent support for various video formats, allowing you to this web tablet can carry your home theater wherever you go. At least if you spend on a pair of headphones. For the sound of the built-in speakers are not much to brag about, even if Asus is talking about "Sonic Master" sound technology made by Asus' "Golden Ear Team". The sound is not bad to come from a tablet, but such a thin and light your tablet has some physical limitations can hardly get away. So a good pair of headphones or an external mini speaker, such as a Logitech Mini Boombox or a Jawbone Jambox comes in handy.
Music Player is the default player in Android, but it works quite well. You have a pretty cool "cover flow"-like feature to browse the album, a good play list feature and the ability to adjust the sound using the built-in equalizer.
The camera of 8 mega pixels
A web tablet is in our opinion, not particularly well suited to take pictures with, no matter how well the camera it may have. Keeping up a large tablet and operate it as a camera is not very practical, but it can still be nice to have the opportunity if you do not have a camera handy. So be it that people look strangely at you.
Infinity Pad has a camera with 8 megapixel resolution. The sensor is backlit, which means that the light hits the photosensitive layer on the chip without having to pass through metal conductors and transistors on the front of the silicon chip. They will make the camera better able to take good pictures in low light.
The pictures we took with the camera were not that bad, but not this camera takes very good pictures in low light conditions – backlit piece or not. But outdoor pictures are ok – although it cannot compete with the best mobile cameras.
It is also possible to film in HD quality. Your tablet is otherwise a front camera, which can be used such as video calls.
Video and games
Transformer Pad Infinity is referred to the excellent video playback. The built-in video player coped well playing most video formats, but a couple of test our files could not – including a H.264 encoded MKV file in 1080p. But most other formats, including DivX and XviD files went fine. Since your tablet has HDMI connection, you can play video files on your TV in full HD if you will.
Thanks to the powerful Tegra 3-chip with four processing cores and a powerful Nvidia GeForce graphics processor, the Transformer Pad Infinity an excellent gaming machine. It is a shortcut to Tegra Zone on your tablet, where you can find games that are specifically optimized for the Tegra 3-chip. In addition, you can of course access to all the other games that are on Google Play. Many games are not adapted to the big screens of your tablet, and the selection is still limited compared to the iPad. But choose your level-tab of the Google Play is a still a pretty ok with the game that really shows what this web tablet is good for.
Do you play a lot of games; it's also nice to know that Transformer Pad Infinity supports common game controllers. You will be able to use game controllers from PlayStation 3, Xbox 360 and Nintendo Wii.
Your tablet comes also with the software Asus @ Vibe, which is an application to download, among other things, music and games. Content is somewhat limited, and we do not think the benefits were as great as it might have been.
Asus Transformer Pad Infinity is the first Android web tablet with Full HD display, and thus also the first Android web tablet that has a screen resolution that is almost as high as on the latest iPad. Infinity Pad also has a monitor in 16:10 format, and combined with a very powerful quad-core processor and raw graphics performance, this allows the tablet is ideal for film, games and other entertainment.
The picture quality on the screen is very good, and with a viewing angle of 178 degrees, multiple view movies the same time. The fact that the screen has its own outdoor setting that gives you a little extra brightness, albeit at the expense of battery life, is a plus.
Your tablet is among the thinnest and lightest on the market, and when it also easily converts into a portable PC using a keyboard dock, the Transformer Pad Infinity is one of the most versatile online tablets you can buy.
Well-equipped
Transformer Pad Infinity has everything you expect from a tablet. In addition to the technical specifications is one of the best you can, have your tablet also supports some more specific things – like that you can play games with the regular game controllers on it. With 64 GB of storage you have plenty of space to store apps, music, pictures and videos, and if you need more space, you can expand with a microSD card of up to 64 GB.
You get a lot of good apps for purchase, including Polaris Office that lets you work with documents in Microsoft Office formats. It also includes a notepad app.
Unfortunately, there is still a lack of Android apps that are adapted to the screen size of your tablet, and Google has not noticed the apps that are suitable for your tablet when you search them in Google Play – so Apple is doing to differentiate the iPhone and iPad apps from each other.
Conclusion
We are mostly very happy with the Asus Transformer Pad Infinity, but there is one thing that pulls down the overall experience. Even if your tablet was very fast in most cases, the browser tends to hang a little while. We were constantly statement that "the browser is not black", especially when we are not sitting on the very fastest network connection. Surfing the web is not as smooth experience on the web tablet as the iPad, unfortunately. Sometimes we found that other apps, or user interface, not perceived as equally fast and responsive as the iPad.
But would you like the flexibility and openness of the Android web tablet, the Transformer Pad Infinity undoubtedly a good choice. The price is admittedly quite high and not too far away from an iPad with as much storage space. But an iPad cannot be converted to a laptop with a keyboard dock (you can certainly use a Bluetooth keyboard), thus Asus Transformer Pad Infinity a more flexible solution.
Options
Do you think there is too much to pay 5000 dollars for a tablet; you should take a look at your little brother to this web tablet, Asus Transformer Pad TF300. It costs around 3500 dollars and has slightly lower specifications – including no high-resolution screen. But it still has a quad-core processor, long battery life and ability to expand with a keyboard dock.
Another option is the Samsung Galaxy Tab 10.1. This has not quad-core processor and no opportunity for expansion of storage space with the memory card.
Android is not a requirement, you should take a look at the Apple iPad. Here's an even better selection of really good apps that are optimized for large screen, and you also get a tablet that is somewhat easier to use and have a browser that works smoothly with slow Internet connections. However, you lose the flexibility and customization capabilities that characterize Android web tablets.