If you are someone who spends hour after hour playing console and online computer games then you probably know how important headsets are. Planning strategies, coercing opponents and playing games are much more fun with the aid of the best gaming headset you can find. If you are dead set on improving and taking your gaming experience to another level then educating yourself about what makes a headset great for gaming or for just about any activity would be a great help. Understanding the many differences between different kinds of headsets will allow you to choose the best one that might suit your needs.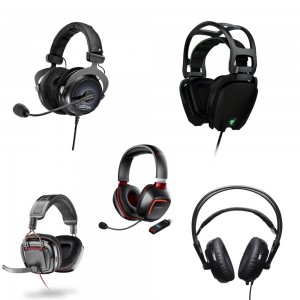 Like any other market that has something to do with technology, the market for headsets continuously grows and welcomes new products and innovations every so often. High-end and state of the art headsets normally come with heftier price tags. However, these prices are acceptable to users who have a deeper understanding of the value a headset has when it comes to enhancing game, movies and music experiences. If you still aren't convinced of the vital role that headsets play, below are some of the most popular kinds of headsets you will find for the purpose mentioned previously:
Professional Grade Headsets
If you work in the movie or music industry, these professional grade headsets are the perfect choice for you. They are usually made out of high-quality materials like gold plated wires and are set up with analog style designs.

Analog Headsets
Old school is what an analog headset is. Analog headsets are most commonly used in stereos, amplifiers and other electronic devices that have analog plug-ins.

USB Headsets
These are widely described as any kind of headset setup that can be plugged into a device that has a USB port like a computer, laptop or an Android tablet.

Bluetooth Headsets
One of the newest breeds of headsets, bluetooth headsets are also one of the most popular amongst users because it is easy to use, it has better technology and can be used hands-free. This is often used by people who are always on the go and who are doing multiple things at a time. Placing VoIP phones from RingCentral are now easier with the help of these bluetooth headsets.

Common Uses for Headsets and Head Phones
Aside from gaming and listening to music, people now have many uses for headsets. There are the Personal Use Headsets which are of course used for general and personal uses. These are the headsets that you normally see on people who listen to their music players while walking down the street or while completing tasks on their Android devices.
If there are headsets meant for personal use, it is but natural to have headsets specifically made for business and professional uses like the headsets used in the Call Center Industries. Customer care representatives need these headsets in order to provide clear, precise and exceptional customer care. One of the most expensive kind and style of headset is the professional grade and like mentioned earlier, these are the headsets that are commonly used in the music industry. They are durable, high quality and are able to capture every bit of sound bite in a performance. Often, these kinds of headsets are also used in radio, TV, talk shows and other multimedia purposes.
As previously mentioned, headsets are just as essential as the computer you will be playing on in giving you, as a gamer, a superb gaming experience. A headset that provides rich and authentic sound amps players up, makes them play better, and makes their gaming experience more immersive than ever. So, whether you are a serious gamer or an aspiring musician, pay enough attention to the kind of headset that would best fit your lifestyle, your needs and requirements.