The perfect device for tracking your cycling is the smartphone in your pocket. It's a portable computer which you can easily turn into a dependable cycling partner. With a few apps and tricks, your iOS- or Android-powered mobile phone, or any other phones with similar capabilities, can replicate the features of a powerful £300 – £400 cycling device such as a Garmin GPS. Here's a set of tools to get started.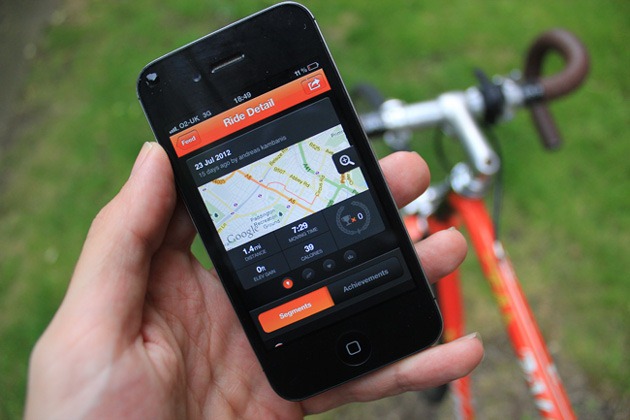 Bike Route Tracking Apps
There are smartphone apps specifically designed to store your cycling route and export or display it elsewhere. Cyclemeter is one such app for iPhone. You can add routes automatically with GPS or manually. The app also tracks your speed, time and distance. Store the details of your cycling experience so that you can improve your performance next time. Review your cycling in a convenient calendar display. You can also share it on Twitter and other networks. What's more, cyclists will find the voice control and voice announcement features indispensable for hands-free use.
All in all, Cyclemeter is one solid GPS cycling app even recommended by professional cyclists.
Another app worth considering is the simple yet reliable RunKeeper. It works for iPhone and Android phones. It integrates well with RunKeeper.com, a free and ad-free website ideal for cyclists who mainly keep track of their cycling online. With the mobile app, you can easily press start and stop to track your route. Similar to Cyclemeter, the app records speed, distance and time, and the list of previous routes you have completed.
Both apps are a real contender against high-end GPS devices. They cost almost nothing and have low battery use which is useful for a long route.
Bike Maintenance Apps
If something needs fixing on your bike while you are out on a ride, it has traditionally been a problem for anything but the most obvious repairs. Bicycle maintenance books are heavy and far too cumbersome to be carried around when you're out cycling but the equivalent apps can serve as your alternative portable manual, giving you easy access to repair information anywhere. The Bike Doctor app, which works for both iPhone and Android, offers 20 common repairs even beginner cyclists can follow.
Download the app and instantly get a helpful bike mechanic in your pocket. The latest version, Bike Doctor 2.0, packs more content including emergency style repairs and bike safety check features.
Bike Mounts
Ram is a trusted company when it comes to bike mounts. They've designed a variety of mounts, including the acclaimed Ram EZ-On iPhone bike mount. The EZ-On securely mounts your beloved device to your bike frame using zip ties. It doesn't come with rain protection features so make sure to prepare your phone for unexpected downpours.
The Tiagra Console iPhone bike mount, unlike the EZ-On, can keep your phone completely dry. It's perfect waterproof gear that will hold your device securely in place. The only downside to it is the waterproofing film which makes the iPhone screen less visible.
Extended Battery Packs and Waterproof Cases
Long bike rides are best enjoyed with the music on. You can avoid depleting your battery by bringing an external battery pack. The problem is, an extra pack demands a larger waterproof case to protect both phone and battery against the rain. This is where Aquapac waterproof cases come in. They fit well on almost any device and have proven a real lifesaver.
If you don't like the idea of carrying extra ounces just to extend your phone's battery life, you can choose a smartphone with the longest battery life. You can also conserve precious battery time by turning off services or power-hungry apps you don't need and selecting low screen brightness.
The best smartphones on the market can be transformed into a fail-safe cycling mate and even if you want to change provider, you don't need to change your phone and buy a new set of accessories again as you can get a free SIM card from Virgin Mobile or one of the other providers, which allows you to simply change your plan to another network, without having to change your