Did you even know that there existed software that lets you monitor the usage of your Mac OS X computer?
To the uninitiated, today's software is pushing the horizons of the applications and is delivering solutions that make life easier and better for you.
The Sniper Spy Mac Remote Monitoring Software is a prime example of remote monitoring software on PCs for stealth monitoring. With high-value features such as Live Screen Viewer you can view in real time, much like watching LIVE TELEVISION, the activities your Mac is working on. It also helps you look at all the websites visited, lets you look up transcripts of chats that your Mac has been used in, keystrokes typed and every other single use your Mac has been up to.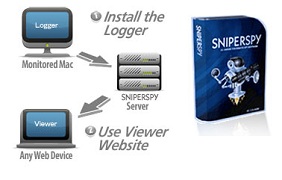 SniperSpy Mac lets you look at the websites your child is viewing on the Mac. As Sniper Spy Mac is hybrid software for monitoring the activities of a computer, you will have first experience at knowing exactly what your child does online.
You will know from their chat conversations if they are involved with child predators, phishers, hackers, and other such risk-rich online communities.
Sniper Spy Mac will give you a personal view of FaceBook, Twitter, MySpace and other such social networks that young users of today are finding long-term engagement on.
Using Sniper Spy Mac, you can
Get actual screenshots
The range of websites visited
Trace the Applications executed
Auto File uploads
Pasteboard activity
File and Folder Changes
You also gain a LIVE Command option that will allow you to gain LIVE control panel, which lets you silently control and monitor the computer in real-time. You will be able to view the activities such as
View LIVE Keystrokes
Log Off user
Shutdown Mac
Send User a Message
Run Screensaver
Browse the File System
Send messages to user
Launching of applications
All you need to do is to install this software you can then watch the Mac monitor secretly. However, you will not be able to install remotely. Sniper Spy Mac Remote Monitoring software has to be installed on your Mac. It then begins to record all the activities for your viewing. You can then login into your account SECURELY for viewing logs, using password-protected login.
The Screen LIVE will bring every single activity performed on your Mac LIVE. It will help to view LIVE in addition to the keystrokes as well as screenshots. All these are controlled through your secure online account.
In fact Sniper Spy Mac works well with all Macintosh models and will run effectively delivering high performance on Mac OS X v 10.6.
The advantage of Sniper Spy Remote Monitoring software for the Mac is that it built to enhance every feature available on the OS, while on other platforms they will be compatible but will not perhaps support all of the features. However, Sniper Spy Remote Monitoring software has proved to be very successful on the Windows platform as well.
Kelly Austin is part of a team of writers at SniperSpy, informing parents of employers of security solutions for their children or employees in this high-tech world. She enjoys travelling and learning to cook new dishes. Follow Kelly on Twitter @KellyAustin86