Anywhere you go—on the bus, in restaurants, or waiting in line at the supermarket or post office—you see people intently concentrating on their mobile phones. In 2013, some of the most downloaded apps for smartphones were video games. Here are some of the most popular.
Candy Crush Saga
The most downloaded mobile video game of 2013 was Candy Crush Saga. It is a simple, colorful matching game in which you sort game pieces that look like candies to clear them and win points. Special candies allow you to clear rows and columns all at once. As you advance, special challenges make the gameplay more difficult. If you prefer to play with others, Candy Crush Saga integrates with Facebook so you can challenge your friends. People of all ages have found it the most addictive game of the year.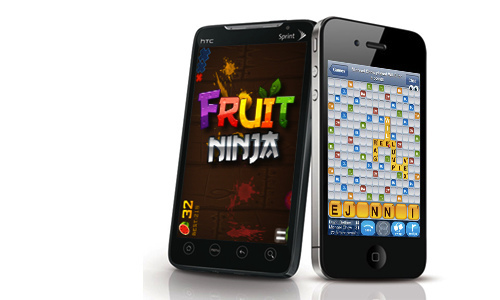 Angry Birds
In 2013, Angry Birds and all of its special edition offshoots continued to be wildly popular. First released in December 2009, the game quickly became such a hit that smartphone versions were developed. The concept is simple: You use birds to destroy the pigs on the playing field, and as you advance in the game you gain access to new types of birds with special abilities. The special editions include holiday episodes, Angry Birds in space, and Angry Birds as a Star Wars crossover in which the birds are the rebels and the pigs are the evil empire. Once you start vanquishing pigs with the birds, it is hard to stop.
Temple Run 2
Temple Run 2 was released at the beginning of 2013 following the highly successful Temple Run. It follows the basic premise of Temple Run in that you run, turn, and jump as you explore a temple. This game, however, has more content, better graphics, more obstacles, more path variations, and more excitement. You can speed down zip lines and ride mine carts. Power-ups, shields, and green gems that revive you after death help keep you going. This is the game to play if you want high-speed action-adventure.
Fruit Ninja
In Fruit Ninja, you use a blade to slice a piece of fruit in half. You get extra points if you can manage to cleave more than one piece of fruit at a time. If you miss too many fruits, you lose, and if you accidently slice one of the bombs that occasionally appears on the screen, you get blown up. You can play in various modes, which modify game play. Despite its apparent simplicity, Fruit Ninja was well reviewed upon its release and continues to be wildly popular.
Subway Surfers
In Subway Surfers, you are a hooligan spraying graffiti in a subway station, and when you are caught you try to flee from the inspector. You jump, duck, dodge trains and obstacles, and collect coins as you run. Sometimes you surf on a hover board, run along overhead wires, and jump over train tracks. In 2013, a world tour theme was introduced that allows you to play in New York City, Rome, Tokyo, Paris, Moscow, London, Mumbai, and other cities around the world. Subway Surfers is diverse, fast-paced, and lots of fun.
With a smartphone, traveling and waiting in line no longer needs to be monotonous and boring. Download some of these absorbing, addictive games and watch the time fly.
In addition to mobile video games, Miles Stafford writes on mtg 2014, board games, strategy games, movie trivia, geek conventions and other associated subjects.
Image credit goes to Sofiasamme.