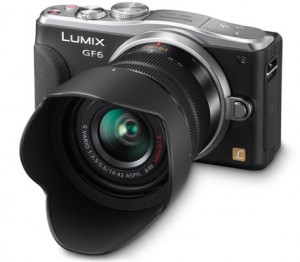 Panasonic recently introduced the latest addition to its GF family, the Lumix GF6; a 16-megapixel mirrorless, compact, interchangeable lens digital camera that features both Wi-Fi and NFC (near field communication) capabilities, among other new and interesting features. The new release came as a follow up to the widely successful GF5 camera launched in early 2012.
New stuff about the Panasonic Lumix GF6
The Panasonic Lumix GF6 comes with a lot of new features, most notable of which are:
NFC connectivity. Aside from giving the user the ability to conduct wireless transferring of photos via Wi-Fi, the DMC-GF6 is also equipped with NFC capabilities, so when it is paired to another NFC-capable device, sharing photos and videos become easier.
180-degree tilting LCD screen. Earlier GF models come with a fixed screen, but this new baby features a tilting touch screen that can be flipped up to 180 degrees. Shutterbugs who are also fond of shooting videos may find this feature useful because it will allow them to see what they're shooting via live view even when they're in the most awkward positions.
Better autofocus. The camera utilizes a contrast-based autofocus system which promises better accuracy. It will be a great compact camera for those who need to shoot images and videos in dim light or under low light conditions. Moreover, its autofocus tracking will also be active even when a user shoots in burst-mode (3.7 frames per second).
16 megapixel Live MOS sensor. The GF6 integrates a new Live MOS sensor that enables high resolution and high sensitivity image recording to increase performance even in less-than-ideal shooting conditions.
Mode dial. Besides the usual buttons and dials found in the GF5 (and earlier models), the GF6 now sports a mode dial on its top panel to allow faster access to the most used settings. The dial works similar to those found on dSLR cameras, suggesting that the target market of the GF6 now includes intermediate to advanced photography enthusiasts.
Look and feel
This latest iteration from the GF series features a chunky build, which is obviously a clear attempt to veer away from the svelte design its earlier camera bodies possessed. Its boxy and thick appearance might disappoint some, but upon first use, one will find that it provides extra secure grip that gives further emphasis on ergonomics rather than looks and weight. Additionally, the camera also has a sleek metallic design highlighted by a metal-like finish on its top plate – a stark contrast to the matte finish that its predecessor proudly sports.
Other specs
The tilting LCD panel of the Lumix GF6 features a higher resolution at 1,040k-dot, comparably a notch higher than the 920k-dot resolution of the fixed panel found on the GF5. The touch interface is quite responsive (something that's already expected from newer camera models) and the bundled kit lens that Panasonic is going to throw in, the new Lumix G Vario 14-42mm f/3.5-5.6 II ASPH, is quite an interesting pick given its versatile zoom range and compact design.