Home cinema systems are becoming increasingly popular due to the excitement and thrills of cinema and live events being brought to the comfort of the living room. But are people setting up their entrainment systems in a way that is wholly beneficial to the needs of the room and users? It is recommended to use compatible equipment to link up to create an even more realistic cinematic experience.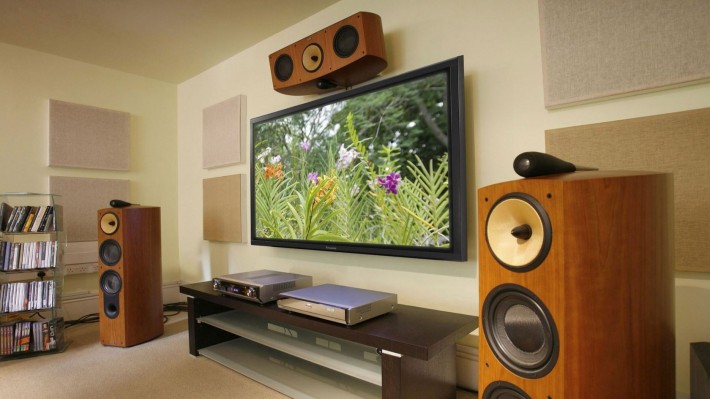 What Can Your Television Do?
The base for any entertainment system is the television. The high resolution display that consoles and players can provide are only limited to that of the TV. Therefore it is crucial to read the specs of products to ensure the features are necessary to invest in and not an unneeded expenditure.
There are two main types of flat screen televisions on the market in terms of display type. LCD displays offer a thinner and lighter television that is also more energy-efficient. It is also available in a diverse range of sizes. Plasma, on the other hand, offers a smoother motion which captures quick motions that may be found on sports footage and movies. It also provides watchers with a wider viewing range in terms of giving every viewing angle sustained quality.
Resolution should most definitely be taken into account, 1080p is highly recommended to make full use of the HD compatible equipment.   Lastly a lesser known option but still worth considering, is a projector. It can cover a wider range of viewing angles and the quality of picture is a vast improvement in contemporary designs (in comparison with older versions). However a projector screen should be bought to maximise the viewing experience.
Get Ready for the Boom!
There are different types of audio systems to also take into consideration:
HTIB systems are usually sold as a unit containing five surround sound speakers, a disk player and a subwoofer (creating an instant, hassle free set up).

Sound bars are usually situated underneath the television and provide a virtual surround sound; the bar itself contains multiple speaker units.

Component systems incorporate a more user defined system as each component is individually bought, this can include an audio/video receiver (a Yamaha A/V receiver is popular) , speakers and a disc player. Speakers are now available in many shapes and sizes; in particular ceiling audio by companies such as 

Yamaha Ceiling Speakers

 and

 

BluCube Speakers

 offer a unique way to hide audio equipment and keep home cinema systems tidy.
Each choice should be informed by suitability for budget, room and use.
A 5.1 channel system gives a very good audio quality and clarity to provide a full surround sound experience. It is recommended for almost all the uses of the system including music, film and games. It is by all means the most popular choice for optimizing the needs of DVD, Blu-ray and Super Audio CD. For people who are an audiophile or appreciate even more precise reflection of the cinema experience then looking further into 7.1 and 9.1 sound systems which have a more complex layout is recommended.