Over the past few months, we've been constantly waiting for the Samsung Galaxy S8, one of the most expected Android smartphones of the year, which should make everybody forget about what happened with the Note 7 and help the brand rebuild its credibility.
Keeping it short, Samsung did an excellent job with the Galaxy S8, in terms of specs and design, but when it comes to the price…well, let's say that we weren't that happy after finding out how much it costs.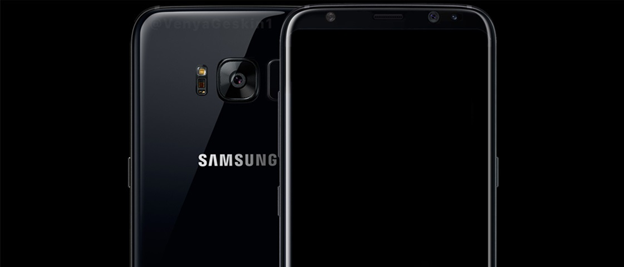 Considering this, a lot of people will opt for a two-year contract, in order to get Samsung's flagship for a pocket-friendly price. And of course, this is a great idea, but let's not forget that this means that you'll be stuck with the same carrier for two years, not being able to put a SIM from another network into the phone. Too bad, isn't it?
Well, it's not that bad, actually, since you can easily unlock your Samsung Galaxy S8!
As you probably know, there are a few popular of doing it, including:
Rooting the phone and flashing a new firmware. Yes, this might work, but it requires proper documentation and technical knowledge, not to mention that it's pretty risky, since it can completely damage your phone.
Asking your carrier to do it. This is a pretty easy method, since everything you need to do is ask your carrier to unlock your phone, because you want to switch networks. Still, it can be done just after the phone is fully paid and your contract is over. Besides, some carriers aren't really fans of this and they will want to make you reconsider your thoughts.
Unlocking it by code. By far the easiest and quickest methods you can use to unlock your Samsung Galaxy S8. It takes just a few minutes and it can be done by anybody, since you don't need any software, special cables or technical knowledge. Sounds good, right? Let's find out more details about it…
In order to unlock the phone by code, you need to follow these three steps:
Find a reliable provider online
There are quite a few websites selling unlock codes right now, but only a few of them are actually trustworthy. For example, we've come across www.UnlockUnit.com and www.UnlockScope.com, which seem to be two great options, as proven by the reviews they received from previous clients!
Place your order
After choosing one service, you need to complete an order form, with a few details about your phone, as it follows: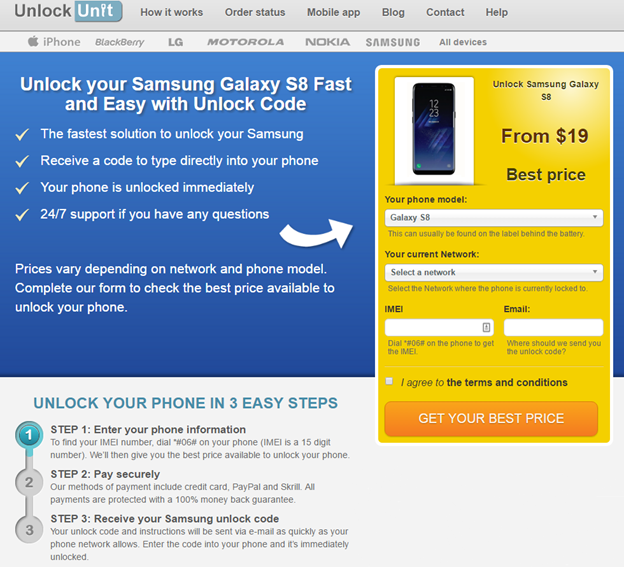 IMEI: It's a 16-digit number, which can be found by dialing *#06#. It's very important to provide the correct one, since your unlock code will be calculated using this number.
The name of the network and country on which your phone is locked: It's very important to pick the network on which the phone is currently locked, not the one on which you're planning to use it.
A valid email address: Finally, this is where you will receive the code, as well as some additional unlocking instructions.
After you're done with completing the form, proceed to payment.
Note: The order can be placed directly from your phone as well, using the UnlockScope app.
Insert the code
In about an hour, you will receive an email with the code, so it's finally time to unlock your Samsung Galaxy S8!
Insert a SIM from an unsupported network in your phone and you should see the "SIM network unlock PIN" message, as well as a special field where you need to insert the code you received. Using the keyboard, type the code and hit the "Unlock" button. In a few moments, you will see the "Unlock Successful" message, meaning that your Galaxy S8 is finally ready to be used in any network around the world!
And this is pretty much it, a very simple process which brings a lot of advantages!