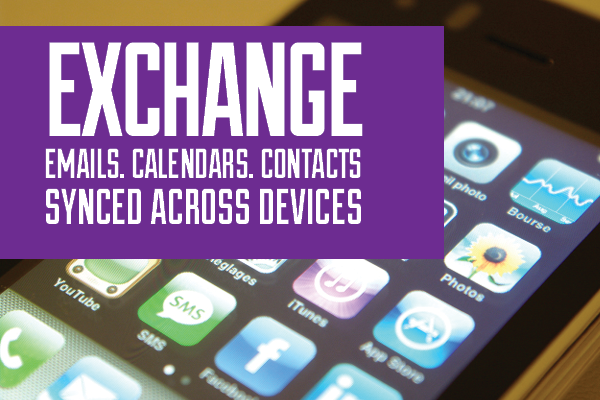 Today, very few SMB owners and employees sit in an office day in and day out. More and more customers request cloud-based yet secure solutions to access information on-the-go, whether they have a traveling sales force, a remote team, or some combination thereof.
For this reason, SMBs are turning to Microsoft Exchange for email, calendar and contact management. Exchange allows automatic syncing across all devices, from office computers to home computers to mobile devices.
"Exchange provides up-to-date email, contacts and appointments to the user's fingertips," explained Kevin Valadez, co-president of Enterhost, a provider of cloud-based IT business solutions. "This type of access is no longer a luxury but a demand; no one has time to 'get back to the office' to check on appointment availability, for instance. In order to be competitive, the workforce of 2013 needs to be 'in the office' no matter where they are located."
The latest version of Exchange, Exchange 2013, offers a streamlined design and interface for ease of use, no matter what device you're working on, so you only have to learn one program one time. That, too, is vital in today's corporate landscape. After all, Valadez pointed out, who has time to ramp up across multiple devices?
The ability to sync across platforms means employees spend more time with the most up to date information and waste less time trying to sync everything manually. "I don't get paid to sync data," said Michael Freeman, Sr. Manager, Search & Analytics with communications company ShoreTelSky, who uses Exchange with his iOS devices as well as on his PC. "I want to be as productive as possible. Having everything up to date on whatever device I'm using with no effort on my part helps me be more productive."
"And, realistically," Valadez added, "most SMB owners and employees work off of multiple devices (personal and/or company-issued), from laptops and desktops, to phones, to tablets. Convenience means productivity, which means profit – music to an SMB's ears."
One of the real benefits of Exchange solutions is how it allows easy user access controls and the ability to integrate passwords. "Efficiency is king in today's marketplace, and every employee is wearing multiple hats. Integrated passwords enable teams to quickly get to work," said Valadez.
Exchange also works well with other business solutions to increase the ability to sync various applications. When set up correctly, Exchange and SharePoint work together to provide custom company solutions to proprietary workflows. For example, the Fast Search technology that was built into the 2010 version of SharePoint has now been built into Exchange 2013 and other Microsoft products. This allows search to work across Office applications. Other ways Exchange and SharePoint work together, according to InfoWorld, are email alerts, where outgoing email can be configured through SharePoint to track various items in lists and libraries, the ability to post directly to SharePoint from Outlook, and site mailboxes that allow you to access both documents and email through the same client interface.
Exchange is a strong solution because it offers a complete suite of tools for both end users and administrators to get their work done, and ensures that SMBs can work collaboratively and efficiently across all platforms and devices and from anywhere.
This is a special guest post by Sue Poremba. Sue is a freelance writer focusing primarily on security and technology issues and occasionally blogs for hosted email provider Rackspace Hosting.