Let's face it, mobile phone applications are almost essential nowadays. Whether you use it to keep up with the latest gossip via social media, to place a bet via an online bookmaker such as Coral, to converse and arrange meeting up with friends or to watch the newest films, apps are used on a daily basis across the United Kingdom.
One of the most popular genres for apps is sport. Sport is incredibly popular across Great Britain and there is some form of sport, whether that's ice hockey, football or rugby, on at some point throughout the week. We take a look at just a few of the best sport apps to keep you updated on the latest news, provide odds for the latest horse racing betting and football markets and much more!
Goal.com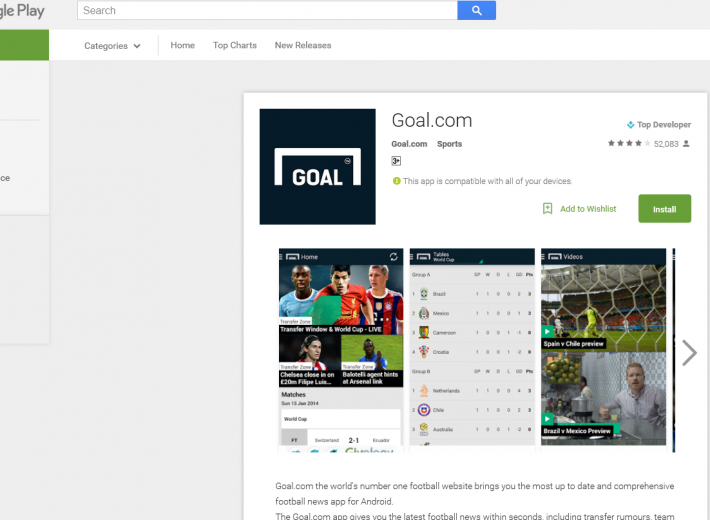 For football news, there's no better app than this! Goal.com pride themselves on being one of the top all-football news services in the world and over 65 million people read their stories throughout the year. Goal can keep you updated on the latest odds and betting tips, team and transfer news, and live score updates with their Goal Flash facility.
Ultimately, Goal are able to provide users with a plethora of useful football information and news; ranging from England's League Two to the Indian Super League. Perhaps the best feature of all is the team selection option. You can pick a certain side – let's say Arsenal for instance – and read up on all of the latest football news that relates purely to the Gunners!
Coral
One of the United Kingdom's biggest online bookmakers, Coral's mobile app can keep you updated on all of the latest betting news, tips and odds for various sports. One of the most popular sports in Britain is horse racing and Coral pride themselves on being one of the true horse racing betting specialists in the United Kingdom.
For all of the latest horse racing news, their app is very simple to use and is an absolute must-have. While some bookmakers purely provide odds, Coral give reasons for their tips and also provide enough substance from some of the world's most renowned and respected tipsters. With the Coral News facility, this app is also essential for those who just enjoy reading up on the latest news across a variety of sports!
Madden NFL Mobile
Okay so not everyone is an American football fan but this game is surely one of the best ways to get newbies excited and interested in the NFL. Madden NFL Mobile allows you to build up a team via their trading card system or simply freeplay as your favourite NFL franchise as you look to reach the Super Bowl.
Madden NFL Mobile is incredibly addictive and is brilliant for almost everyone. It's incredibly easy to play and doesn't take much brainpower – which is perhaps why it appeals to the masses. Although not everyone will find this game entertaining, we certainly do and it's an absolute MUST download for anyone interested in learning more about the sport.