If the iPad Air and iPhone 5s were working on the same SoC – Apple A7, then the iPad Air 2 powered with the SoC that is present in the last generation iPhone: Apple A8X. It is important to note that for the first time on a mobile device, we see 2 GB of RAM.
Apple as manufacturer never reveals any details regarding the SoC – we only know that, like A7 and A8, the new SoC 64-bit architecture and 3 billion transistors.
Apple also promises to increase performance GPU-two and a half times, and for the CPU – 40%. Other information we have learned from the benchmark. In particular, Geekbench CPU 3 determines as a frequency of 1.51 GHz and 220 MHz is greater than defined in Apple A7 in iPad mini 3 and 110 MHz is greater than that in the Apple A8 iPhone 6. Thus, the number of processor abruptly stated as three (at the A7 and A8 were two).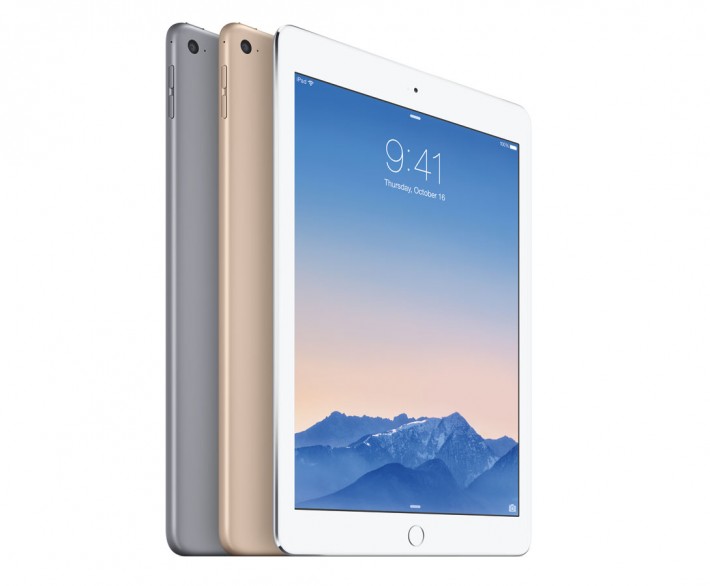 Benchmarks also reported that as a GPU is used PowerVR GX6650. It was used in iPhone 6 / 6 Plus, but maybe in the Apple A8X some other modification (e.g., higher frequencies).
Despite the fact that the screen was left with a diagonal of 9.7 inches and a resolution of 1536 x 2048 (Retina, 264 PPI), some changes its still suffered. At the presentation we were told that there are no air gap between the IPS-matrix and protected glass. This, of course, very cool, but the problem is that during the announcement of the previous generation iPad Air similar thing was said. It is possible that before the screening of the new product layer is recycled, then to clean it.
In addition, the improved anti-reflective coating, which is now 56% better, protects the screen from the sun (only I do not understand how the developers have identified the percentage). But if you go out and compare the iPad Air first and second generation, the difference is not really noticeable – displays fade, and in very difficult situations even read the text.
Air 2 definitely deserves good words to its side. But subtlety that we are so praised the presentation, got out sideways (almost literally). Stains that appear on the screen when the normal use force to think about whether it is worth to buy this novelty or not? And if you own a first generation iPad Air, the question about the update, you cannot even put. That's really all right, but such problems with the screen discourage use of the tablet. And the problem with the screen is reported by lots of people around the globe, that the problem comes, often in versions with 128 GB.
Well, iPad Air 2 is still interesting but has few flaws in it and but now the rumors regarding iPad Air 3 are making interesting promises to Apple fans. Well, let's wait and watch if Apple will bring more interesting device or not.