The basic function of smartphones, of course, is to perform communications tasks; it does not matter whether it is for personal, professional or business use. These devices are basically traditional mobile phones that are more intelligent or smarter.
In what way smarter, you might ask? Obviously, call and text functions are not the sole use of the smartphones as they have already assumed various specialized functions that approximate more powerful devices such as laptops. For instance, smartphones come with various applications that can be used for specific tasks in the field of entertainment, business and health, among others. Also, these devices can be used as a platform where you can launch the features of your office-based business communication system, which is powered by phone service providers such as RingCentral.
Yet, despite the fact that smartphones respond to general communication and recreational needs of users, there are a number of devices that feature some oddities. For example, the Nokia Lumia 1020, which is the subject of this review, sports a rear-facing camera that boasts of a whopping 41MP resolution.
The Nokia Lumia 1020 Sports the Highest Resolution Camera
A 41MP resolution is a figure that astounds you since the smartphones with the next highest camera resolution pale in comparison. It is the latest Windows phone from Nokia and it also comes with a hefty price—with a two-year contract, this smartphone costs $299.99.
Well, nothing much is stunning with this handheld device except its high-resolution camera, which utilizes Nokia's PureView image-processing software and six-lens Carl Zeiss optics. Other options with this smartphone include a high-resolution 3x zoom, a dual-flash system and autofocus. There is also an LED flash on top of a larger Xenon flash. The rear camera can take 1080p HD videos at a rate of 30 frames/second.
Surrounding the camera are ball bearings that ensures image stabilization. Aside from that the Nokia Lumia 1080's camera takes the best low-light images of all smartphones existing in the market, beating even the iPhone 5.
The Nokia Lumia 1020 in Terms of Design and Other Specifications
This device looks like the Nokia Lumia 920 with its rounded spines and squared corners. It comes in three colors, namely, black, matte white and yellow. Despite the astounding camera, the smartphone is almost as thin as other Nokia Lumia devices, having 0.4" in thickness.
The Nokia Lumia 1020 has support for 4G LTE connection. Meanwhile, it sports a 4.5" AMOLED PureMotion HD+ screen that packs a resolution of 1280 x 768p. The display ratio of this handheld device is 16:9. It also comes with a mechanism that reduces outdoor glare, the Clear Black filter from the Finnish company. Meanwhile, the touchscreen is ultrasensitive, allowing you to use the device even though your hand is gloved pr even if you use your fingernails.
Aside from the 41MP wonder, this handset also sports a 1.2MP wide-angle front camera. When it comes to performance, the Nokia Lumia 1020 is fitted with a 1.5GHz dual-core Qualcomm Snapdragon S4 processor, which is pretty mid-range when you compare it with other smartphones in the market today.
IN terms of storage capacity, the Nokia Lumia 1020 comes with 32GB of onboard memory, but this can be complemented with an additional 7GB from Microsoft's SkyDrive cloud storage system. The device has no expandable memory, however.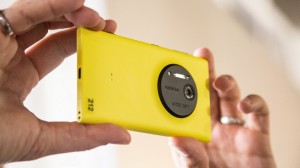 Should you Purchase this Smartphone?
If you prize excellent photos and want a handset that can replace your digital camera or even your DSLR, then the Nokia Lumia 1020 is the best choice there is in the market. It is not the fastest device in the world when it comes to performance, but it is quite a decent handheld device.