The road trip is one of the country's favorite vacation styles, with more than one in four American's hitting the road over 2012 festive season. But we're doing it differently to our parents. Read on to discover some of the high-tech devices making this vacation staple simpler, safer, and more fun.
Autonet Mobile Router Helps You Stay Connected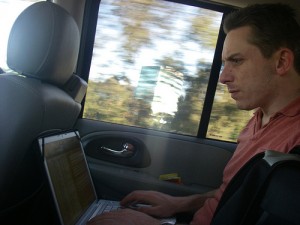 The Autonet Mobile Router helps you stay online while you're on the move. The kids will stay entertained using their laptops in the back seat, you can enjoy your Spotify playlists, and your driving buddy can keep you updated on the traffic conditions ahead.
This clever device uses the 3G network for seamless connections as you zigzag across the continent. This reception is strong, but you can improve it by mounting an external antenna to your car. With the signal traveling some 150 feet, you can even stay online while your car's in a nearby parking lot!
RoadPro Sandwich Maker Beats Hunger
You've been driving for hours, and it seems like forever until the latest truck stop. What's a road tripper to do? Fire up the RoadPro Sandwich Maker, an offbeat gadget which delivers a hot sandwich with your favorite fixings in minutes! This handy car appliance gets its heat from your vehicle's power outlet.
SteriPEN Traveler Sterilizes Water on the Go
Nasty bugs in your water can turn your dream vacation into a nightmare. If you're heading south of the border, the SteriPEN Traveler can ensure you don't come down with a bad case of gastro. This lightweight gadget uses ultraviolet light to deactivate any germs lingering in your water. It takes less than a minute for this battery-powered device to turn a contaminated bottle into delicious, drinkable water.
Michelin Star Jumper Cables Keep You Moving
Michelin Smart Jumper Cables take the guesswork out of jump-starting your car. These clever cables automatically detect the right polarity once you connect them to the batteries. They also have inbuilt surge protectors to keep the electrics on both cars safe.
Lemur Vehicle Monitors BlueDriver is Your Portable Mechanic
Every year the AAA receives around 30 million calls from motorists stranded on America's roads. The Lemur Vehicle Monitors BlueDriver means you don't have to be one of them. Thanks to this handy gadget, you needn't be a trained mechanic to diagnose your car trouble. This knowledgable device monitors your car from its OBD-II port. If there are any problems with your vehicle, you'll get an alert on your smartphone, tablet, or laptop. The user-friendly free app will help you identify the trouble, and get you on your way sooner.
Verbatim 8GB Store 'n' Go Car Audio USB Keeps You Grooving
A rocking soundtrack is a must for any road trip. But no one wants to take their library of CDs on the road. Verbatim helps you go digital with its teeny tiny Store 'n' Go Car Audio USB. It's around the size of a dime, yet it's large enough to hold a couple of thousand songs. That's enough music to satisfy the tastes of all your passengers!
And of course, make sure you don't forget the vehicle! No matter what your auto of choice, Sport Durst Durham North Carolina has you covered.