Is your gaming space limited? You don't need a ton of floorspace to get comfortable with your favorite RPG. Still, it's tricky to buy a chair that fits in well regardless of the size of your room. Here's your ultimate buying guide to the best gaming chair for your space.
If you're a committed gamer, you might spend hours behind your desktop playing the best that the gaming world has to offer. That's why outside of your system itself, one of the most important things you can get for your gaming space is a good, reliable chair.
What makes a good gaming chair? Some qualities may depend on your own space and preferences. But other factors should be true no matter who you are or where you play.
If you're an avid gamer looking how to find the best gaming chair for you– read on. We'll walk you through how to find the best possible choice for your space.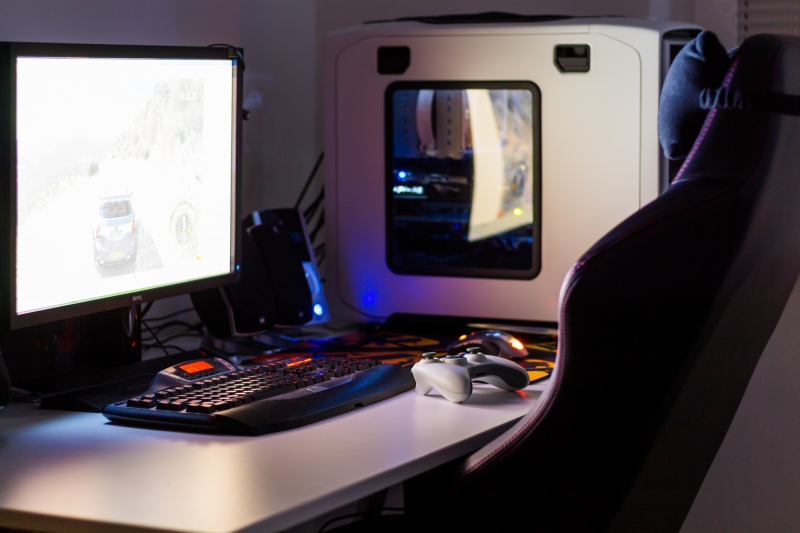 Do I Need A Gaming Chair?
With so many other items on your to-buy list, you may feel pressured to slip a gaming chair to the bottom of the list.
You shouldn't, though.
A gaming chair is more than just something fancy to show-off and sit in– it can be essential to your health and long-term comfort. If you spend many hours sitting in the same place playing, it's hugely important that you have an ergonomically designed chair that is supporting your body properly.
If you don't ensure this, you have a serious chance of ending up with back problems later on in life. If you love gaming, you need to get a proper chair.
What Makes A Good Gaming Chair?
The proper gaming chair for you will be dependent on your own needs. But you should take into account the strengths or weaknesses of a variety of factors in making your decision.
First and foremost, the comfort of the chair in question should be your highest priority. Gaming chairs are intended to mitigate the discomfort of a lengthy gaming session and help the user relax. Look at chairs with extra padding, footrests, armrests, and adjustability and gauge your comfort and your personal need.
The size of a gaming chair is also something worth considering. A proper chair should perfectly accommodate your own body size and should be appropriate for the size of the room you intend to use it in.
Another factor to be aware of is materials– if you're investing in a chair and want it to last, you should look closely at if a chair was made with plastic, metal, wood, or other materials. Is the upholstery made of a material that will last many sessions? These are all important questions to ask when deciding on a chair.
Last but certainly not least, the price of a gaming chair should be a big deciding factor in your process. A high priced chair isn't always amazing and an affordable gaming chair isn't always bad. You should ensure that the price you're paying feels fair for the features that the chair offers.
Find The Best Gaming Chair For You
Your personal computer build is unique to you and your needs as a gamer. The way you approach finding the best gaming chair should be no different– it should be the right chair for you.
Check out our blog for more info on the coolest tech and gaming gadgets available on the market.