Using a PC at home does not only mean a finite type of chores. As the computer world is quickly advancing, it seems clear that you will need a powerful configuration that will cater the needs of the entertainment demands. The theatre hall seems to have recently moved into your living room and you should keep your computer up to date. If you want to benefit from the ultimate configuration from 2013 you should know something about the hardware and software that you need to get. If you want a deeper insight the following information is priceless for you.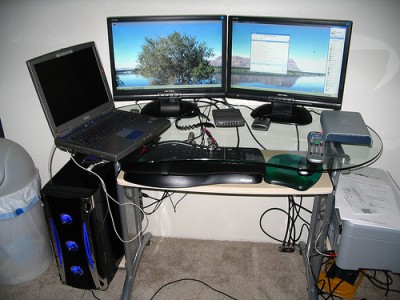 The Hardware
From the point of view of the hardware, there are too many options to count. But if you want a PC that runs smoothly, you will need a really strong processor like the Intel Core i3 or i5 2370. The quad-core is an excellent option as it has increased the power of computing. The memory cache should be as high as you can afford. This will ensure that the computer will work just fine.
If you plan to store media files, you should have a large hard drive. You can get a 1TB Seagate Barracuda 7200 RPM hard drive which will be pretty enough for your needs. Remember that you can always add in additional drivers so this will ensure that you have plenty of space. The Hauppauge WinTV HVR-2250 tuner card is a must in case you want to capture any cable or satellite signal and use your computer to watch TV. You should easily accommodate your PC chassis in the home theater system. On the other hand, it is important to have a competitive graphic card like the Asus ATI Radeon HD6450. Today's 3D movies or HD films require top notch graphic capabilities. So the best configuration would be made of an ample memory, a powerful processor and of course a competitive graphic card.
The Software
In terms of software, things are absolutely relative. However, most people go with the latest version of Windows as their operating system. This has the advantage of having its own Media Center that will ensure that you can capture your tuner image. If you plan only to display TV image, you do not need really demanding software. Most tuners come with their own program so you are actually lucky in this respect. If you want to get Windows, you can buy it from your own retailer without the need of previously being installed on the computer. On the other hand this operating system may already have integrated a tuner card capability as it is linked to the hardware bundle. In case the tuner is not installed, the process is really easy and even an average user can actually get the best out of it.
If you do not plan to upgrade your old home PC, you should think again. Even if there are many other apps that you act as a Media Center, you should get the best on the market. For a complete experience you should think about adding a tuner card plus a remote control. This will transform your outdated system into the ultimate choice. On the other hand, if you plan on buying a new system this year, make sure that you invest enough money in it so that it will be performing according to the high demands of the current entertainment industry.
Rick is a hardware and networking technician who is passionate about computing and hardware,he blogs on how to fix pc in his free time with amazing tricks that he has learned over the years.