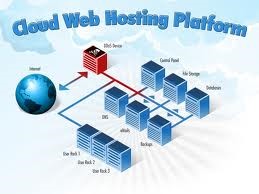 For many years now, great web hosting companies such as serverclub.com have been enabling organizations and individuals to make their pages accessible to internet users around the globe. Typically, the process of providing this service involves the use of data centers. Web hosts also provide internet connectivity. For some time now, people have been talking about cloud web hosting and you most likely have heard the term. This is a very new service to many website owners and many would wish to understand it better before deciding to make the move to it.
What is cloud web hosting?
Undoubtedly, cloud web hosting is a complicated service that you may not understand right away. In basic terms, it involves the use of resources from a number of servers set up in a collective manner. These clustered servers have the resources necessary to handle all the facets of hosting a site. This ensures that the load is balanced and security of the highest level. It also ensures that virtual hardware resources are available so that you can use them from anywhere when need be. This group of servers is what the experts refer to as the cloud.
Who can use this service?
If you are a website owner and your site has surpassed the resources of the current unlimited web hosting in a shared server, you are a good candidate for these dedicated web hosting servers. This is an excellent solution when a popular site starts to strain the resources available in a shared server. Cloud hosting offers many of the advantages of dedicated hosting but without the cons. Dedicated servers are expensive and require a higher level of IT knowledge. On the other hand, you do not need be an advanced IT learner to manager your site on cloud servers.
What are some of the main benefits?
Cloud hosting offers you on demand services when you need them. When your site needs additional resources, you often do not have the time to call customer care and then wait for them to increase your resources. If your site has a spike of resources, you will risk suspension of your site for depleting resources on a shared server. Increased traffic may cause your site to experience downtime or become very slow. With cloud hosting, you are able to increase resources available to you instantly when you need them. Your visitors will not even feel the pinch while you are doing this.
Sites that experience massive traffic on certain times and few visitors on other times can benefit from the scalability that cloud hosting offers. During peak times of your website, you can simply gather more clouds so to speak to help support your site. When you do not need the extra clouds, you can simply allow them to float away. This helps you with the cost too. A while back, your only solution to the increase in traffic during certain time would a dedicated server, which was expensive because you paid for resources you do not use all the time.