Technological developments have changed the way business is transacted. It has reduced the world to a village and made it possible for people in different countries and continents to do business. It is therefore very important that a business has an internet service provider that is fast and reliable. Interruptions in form of erratic signals and down times when phone lines and the internet are down can cost the business revenue and open the way for competitors.
There are a number of service providers who offer different service packages. A business is all about minimizing costs and maximizing profit so the internet service provider that a business chooses to use must be efficient and well priced.
This is exactly what Fastweb business partner packages are all about. Whether you are an online retailer or a business that markets services and products on the web, the end user experience of those browsing your services are as good as the quality of service of your service providers.
Fastweb understands this. This is why their business package includes a way to monitor the quality of service that those on your website are getting. If you can't measure this then you can't manage your service providers and the experience of your end users.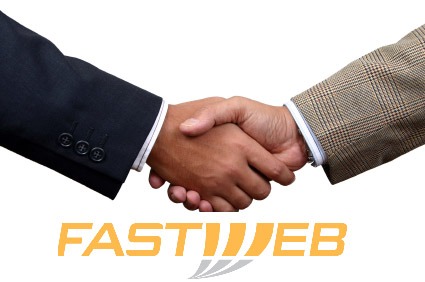 It is very important to be able to troubleshoot problems for end users as soon as any inconsistencies and problems are noted. Down time is always an opportunity for the competition.
If your online sales or online marketing campaigns rely on third party web services, it is important that you keep checking and reporting the service you are getting periodically. Fastweb business partner service providers recognize this and they do give reports on schedule upon request.
Such a report makes it possible to know and understand the quality of service you are getting from your service provider. You will also have firsthand experience of what your end users are experiencing and you can know how to improve it to stay ahead of competitors offering the same products and services. Fastweb will live up to the challenge of improving the quality of service.
Such transparency works for you in other ways as well. Fastweb offers web counseling that guides you through understanding how their services work and how to do troubleshooting of your own when problems come up. They also offer clients online tutorials that they can refer to whenever they need to. When you experience an outage or when your phone lines or website slows down, your first step should be to check the external web services before starting to troubleshoot yours. You would not want to start debugging your own code when the problem is from an external source.
Today's web services such as ASDL make it possible for telephone lines and internet browsing to be done at the same time. Depending on the data being uploaded and downloaded and the telephone communication that is being done, challenges may arise. This includes issues of memory and bandwidth of devices like computers and the telephone devices. Fastweb services address such issues during installation and as a business grows and expands, it is able to adjust the capacity and performance means so that there is no need to invest more in machines. This keeps business costs manageable.