Blogging daily is a daunting task that requires tons of creativity to sustain topics your audience cares about. The best bloggers will tell you that there is no muse–you just sit down and write. Maybe that's correct, but there are a few hacks that can help you along the way.
Different Search Engines
Did you know that the same search will appear differently depending on which engine you use? If you are searching for that one last little nuance that will complete your article, try searching with other search engines. Try a web search aggregator like Mysearchresults.com, then compare it and see if you find any information that Google and Yahoo might have glossed over.
Related Searches
Both Google and Bing make a recommendation of related search terms at the bottom of your search results page that you can use to discover some related topics. If you like to blog about how to personalize a WordPress, a quick search for "WordPress comments" can lead you to help customize the comment area, turn comments off and other things you might not have thought to write about. Not every post needs to be a personal experience, in between your best work you can help readers with common problems that may arise in the course of their lives.
Social Bookmarking
A website like Reddit or StumbleUpon can help give you a very broad overview of what is trending. A topical post might not survive as long as something unique and observational, but joining in a new conversation may attract new readers to your blog. These outlets are also great for distributing a post once it is completed. You will want to avoid trying to game the systems with lots of upvotes, but well-written content that is timely may travel quickly through the social sphere.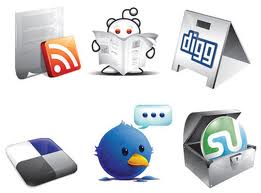 Publicly Available Data
Data from the government, and data published in reports by companies are great ideas for blog posts. This publicly available data can be an interesting springboard for new topics, like the correlation of joblessness and geography based on statistics from the bureau of labor statistics. This kind of research is highly valued as it presents new ideas based on large pools of historical data.
The Google Public Data Explorer and Data.gov are two great resources to find data that you can work with.
Social Media
For timely topics, and ideas for commentary, peer in on discussions happening right now in the social media sphere. Places like Twitter, Google+ and Facebook Groups have real people currently discussing topics you could write about. Search.Twitter.com is a good resource if you want to dive right in, but you can also try asking users what topics they want to hear about. Post on your blog and tweet a survey out to your followers asking them to vote on a few topics. Use a polling system to gauge popularity and write about what your audience wants to know.
Quotes and Pictures
Tumblr is an excellent source for inspiration because there are many blogs filled with quotes and inspirational pictures. Especially useful for writers and graphic artists, having something to model your work after always helps get the gears going. You can also search Deviant Art or Behance for graphic arts inspiration. Even simple shapes and colors can inspire you to think differently.
Often times, a lack of inspiration stems from the feeling that you are stuck in the same routine. Break this mold by stepping outside and trying something new. Even if you can't get out of your office right this second, a different route home is more mentally stimulating than sitting through the same traffic.