Smartphones are essentially mini computers. They can fulfill almost any basic function a computer can, (with obvious technical boundaries and limitations) and offer an outlet for email, web browsing, social networking, and other basic tasks like paying bills. Companies have even developed mobile versions of their websites for viewing use on smartphones and tablets. Indeed, the uses of smartphones are endless, with an exorbitant amount of applications available to enhance the experience.
There are plenty of people who only use smartphones for the sophisticated operating system technology and "cool" factor, and never even tap into the device's functional capacity. In other words, they use merely the tip of the proverbial iceberg, never delving below the surface the utilize what a smartphone can really do. 
Others, however, use the heck out of their phone, relying heavily on it for everything from completing everyday tasks to connecting them to the outside world. Mobile developers have targeted this audience to roll out new inventions, from apps to add-ons to accessories, that enhance the smartphone's capacity and transform it into a multi-faceted, all-in-one tool. Suddenly, the term "phone" is practically obsolete.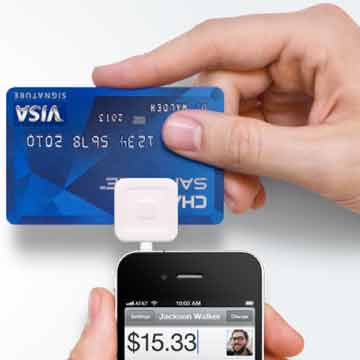 Here are five ways accessories and apps can transform your smartphone into something more than a phone:
1. Payment Scanner/Processor
In addition to the wealth of mobile banking and budget apps that allow you to pay your bills, transfer money, and see your account balances on your smartphone screen, now you can take payment straight from credit cards. The online payment processor PayPal, rolled out their smartphone connection last year: a small reader that plugs into the phone's audio jack, and pairs with mobile software to process payment transactions from a card scanned through the reader. Street vendors, home business entrepreneurs, and small-scale merchants can benefit greatly from this new little gadget to improve their business.
2. GPS Navigator
The need for a separate GPS navigation unit mounted on your car's dashboard is practically obsolete now, with the ever-advancing mobile GPS technology. Google dominates in this field, with Google Maps and navigational features available on mobile devices that are far more accurate than Apple's initial Apple Maps disaster.
3. E-Reader
The variety of options in this are endless: Amazon's Kindle and Barnes & Noble's Nook rule the roost in the area of e-book readers, but you can also double-dip and convert your mobile device into one as well. How? Simply download Amazon's free Kindle app, which is meant to serve as a means of sync and cross-functionality with their device. You can purchase and download books from their library the same way you would with a Kindle device, and there are screen settings like brightness, font size, and paper color available in the app. Of course, there are those who will argue against the smaller screen of smartphone versus a tablet, but then again, with smartphone screen sizes increasing to the size of dinner plates, perhaps that won't be a concern for long.
4.  Camera
Shutterbugs will scoff at the idea of minimizing photography to the limitations of mobile devices, but they can't argue with the increasing popularity of smartphone cameras in personal and media use. As smartphone technology increases, so do the features in their cameras: what used to be tiny, pixelated graphic images have blown into sharp, high-definition, high quality digital photos. Indeed, the Samsung Galaxy S4 is equipped with a 13 megapixel camera, which is larger than many standard point-and-shoot handheld cameras these days. Mobile photography is a growing trend, and smartphone cameras may soon become the way of the future. 
Image Source: gizmag.com