Ecommerce has seen some significant changes over the last few years, largely consumer-driven. As more people feel comfortable shopping online and the amount spent via the Internet increases, expectations get significantly higher. Multi-channel retail, mobile device optimisation and the utilisation of customer data to provide personalised experiences are all key trends for 2014. No longer can businesses simply throw together an online store and patiently wait for customers.
Key to becoming a fluid ecommerce business that can meet the needs of tech savvy customers is using a platform designed specifically for the task. Magento is the world's biggest ecommerce platform that is used by over 200,000 retailers worldwide, ranging from small start-ups to the likes of Fred Perry, Harvey Nichols, Warby Parker and more.
There are advantages to using Magento regardless of the size or age of a business…
Developers
Magento has a huge global developer following. As the platform is open source it's more flexible for developers, this means common issues and errors are documented on forums and blogs, helping business owners overcome technical issues without the expense of employing a third party.
Developers also build extensions for the platform, which can be found in the Magento Connect marketplace. Apps are available for anything from SEO and blogging to image handling and affiliate marketing. Just like a mobile app store, all of the apps have ratings and reviews, giving the user the ability to make an informed choice.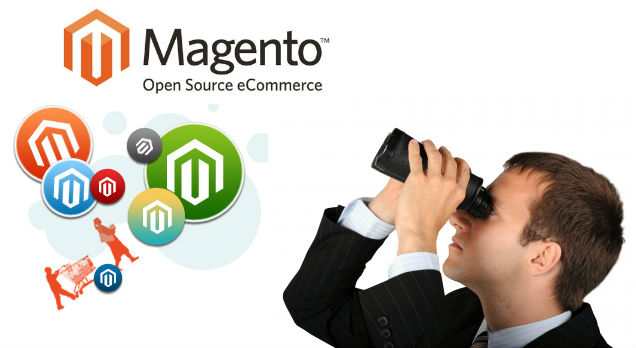 Scalability
As online shopping becomes more popular, scalability is essential in the world of ecommerce, particularly when web traffic cannot be accurately estimated. The ability to invest in a platform and know it can support you through growth is a huge advantage.
Coupled with powerful Magento Hosting, which automatically scales servers up or down to meet user demand, online retailers can offer a fast and reliable service to their customers. Delivering such a simple and secure online experience makes people return again and again.
SEO-Friendly
Off-the-shelf, Magento isn't brilliant for SEO, largely because of the amount of duplicate content that comes with building an ecommerce store, but with the help of third-party modules and an abundance of plugins built for the purpose of maximising online visibility, it can easily be made search engine friendly.
Functionality
Magento has a huge amount of out-of-the-box functionality, giving businesses everything they need to run a standard ecommerce shop. In addition to the obvious components you'd expect, there is a flexible product catalogue and modules to help create mobile apps or optimised websites with promotions, gift codes and discount functionality.
Integration
Some things simply cannot come with Magento as an initial package, such as all-encompassing payment features. However the popularity of the platform means that hundreds of software providers now integrate with Magento as standard. Many ecommerce retailers start life on marketplaces such as eBay or Etsy, both of which can be integrated and managed from the Magento platform, giving businesses the opportunity to launch their own website whilst maintaining highly visible marketplaces where they have previously seen success.
Magento's commitment to ecommerce helps millions of businesses thrive. The platform is driven by open source development to ensure it continually meets the needs of its growing community, as changes and trends rapidly evolve within the ecommerce industry. It is, in short, the most reliable and flexible option available for online retailers today.