If your career aspirations involve the world of business or finance, you might be well served by going back to school to pick up your MBA degree. Although that Master of Business Administration degree isn't a requirement for most entry-level jobs, it is something that most hiring managers will expect out of senior level employees, and will also help you move further up the corporate ladder at a faster rate in your current job. Even after you decide to pursue the degree, you'll still have a couple of decisions to make. And the most important one is whether to go after a traditional degree at a prestigious university, or to earn it at your own pace through an online program. It's a personal decision that will depend on several factors, so only you will be able to make the final call. But here are a couple things to consider if you are wondering if it is better to enroll in a traditional or online MBA program.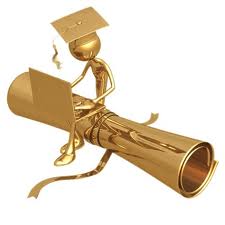 First, there's the prestige factor. While you can certainly gain all of the knowledge you need through an online program, those degrees aren't looked at in quite the same light as the one given by a traditional school. Every year there are lists of the top MBA programs in the country, and online schools almost never make the cut. Part of what you are buying with your tuition fees is the name recognition of the program. Some corporations will only recruit graduates of particular schools, because they know those graduates well and can be sure they've received a quality education. This may or may not matter to you or or your game plan, but it is something to consider.
Of course the largest factor is the price tag. Most MBA programs take two years to complete, although some can be handled in a single year. But a traditional program will also be far more expensive. Along with that prestige and the physical resources come a premium cost, which you can circumvent by getting your degree online. Money is always a consideration, and if you're just squeaking by right now you might want to go the online route. This will also hopefully keep you from accruing a bunch of student loan debt that you'll have to pay off over the next several years.
There are some experiential differences to consider as well. At a traditional school, you'll commute to college and spend your time in a classroom setting, taught by a professor. There will be a campus to explore, and all sorts of events and seminars offered only to students. With an online program, you'll most likely never meet any of your classmates or professors in person. All of the resources will be digital. There will be less to buy, no commuting time or expenses and no campus to get to know. At a traditional school you'll probably have to enter a full-time program, while the online degree program could be completed in your own time, allowing you to continue earning money with a full time job.
Finally, you should think about the contacts you will make. One of the best aspects of any graduate level program is the connections forged with professors and classmates. Since everyone is there for the same purpose, you'll probably run into these people during the rest of your career. Graduates of Maryville University stick together, and will offer up future recommendations or job opportunities whenever possible. You won't have the same interactions with an online program. You'll never meet your classmates, and won't forge the same relationships. Contacts are crucial, and this may be the most important difference of them all.