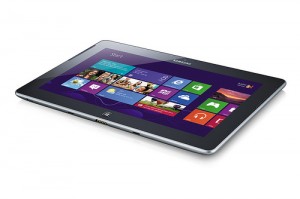 Market research firm Markets & Markets has produced a detailed analysis of predictions for the display market over the next five years. The report's insights give us an excellent idea of where the technology is headed and also as to which technologies are predicted to be successful over the next few years.
The report finds that the display market has seen "steady and firm growth", despite the radical divergence of form factor in the display industry. They do, however, note that global display usage is still in an "introductory phase", with many opportunities for expansion in different locations and industries, including in military and retail environments. However, holding some of this innovation back are "competing technologies", intellectual property issues, and "design" problems. Innovation in the market is hamstrung by "cannibalization" – newer display technologies are occasionally sidelined for commercial convenience and to avoid competition with pre-existent products.
Despite these hiccups, the market is expected to radically swell in size from around $137.5 billion in 2011 to $164.2 billion in 2017. The growth rate will stick at just over 3 percent.
The main driver of this growth seems to be gradual implementation of innovative technologies across the application field. "In the present scenario," notes the report, "CRT, plasma, etc. are being replaced by LCD, LED display technologies" [sic]. The main reason for this implementation is a need for "better image resolution, quality, and features like slim size and flexibility".
The paper then moves on to study different sections of industry in turn. Some of the more remarkable highlights include the following:
Being thin, light and high-resolution is of greater importance to screens than brightness, viewing angles and response times. A significant part of the next year of display manufacturing will be spent producing high-resolution displays, a trend kicked off by Apple's marketing of proprietary "Retina" displays. These displays will need to be light and thin to meet the growing demand for the ultrabook market. In my opinion, the successful launch of Windows 8 (with 40 million licenses in the first month alone) will go hand-in-hand with the rise of the lightweight, affordable ultrabook sector.
Flexible display technologies (including e-ink) will see more a gradual introduction than advocates of the technology expect. The technology will not cause a paradigm shift in how we think about and use displays, but it will positively impact the growth of the display sector.
'Non-emissive' display technologies, such as LCD, Bistable and LCOS displays, are set to be mostly superseded by 'self-emissive' flat panel displays. These displays include LED and OLED displays, as well as Plasma and EL. Backlights will gradually become surplus to requirement as the new available displays make use of the emission characteristics built in to their own panel technologies.