Any geek worth his or her salt would know what the Mr. Fusion Home Energy Reactor uses for fuel. It's actually one of the most memorable scenes in Back to the Future Part II. Now, just in case you have zero knowledge about Doc, Marty, and the DeLorean time machine, all you need to know is that the Mr. Fusion unit could run on pure trash. And while time travel is the central premise of the Back to the Future trilogy, it's easy to see why anyone (even those without a scientific bent) would find the idea of a garbage-powered car fascinating.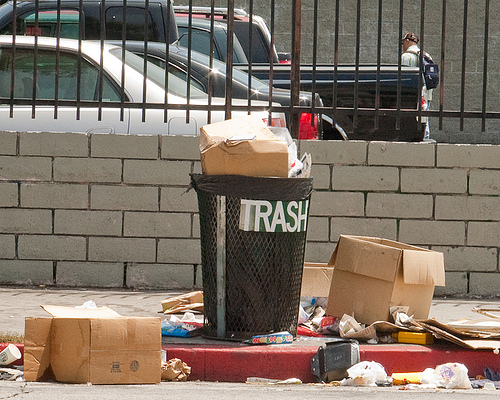 Of course, no discussion of fascinating gadgets would be complete without exploring real-life devices made from recycled materials. As the popular saying goes, one man's trash is another man's treasure—and here are five gadgets to prove it.
Foldable Eco Speakers
Not happy with your smartphone's speaker? Why not give Fashionation's Eco Speakers a try? Made from recycled materials, these earth-friendly speakers can be flat-packed for storage and/or transport and requires no batteries to function. Just remember that these are passive speakers, meaning they draw power from your iPod or MP3 player. So if you're expecting exceptional sound, these speakers may not be right up your alley, considering they have no amplifier. Of course, if you're after portability and an ecologically sound option, as well as cheap (Read: It retails for only $14.95.), then this is definitely something you should consider buying.
Sprout Watches
Sprout calls their timepieces "eco-forward." And while we're not sure about what that exactly means, we can see and appreciate the intention and thought processes that went into creating these watches. Take the case and buckle, which are made out of naturally biodegradable corn resin, as examples. (It should be noted that in a proper landfill or compost environment, corn resin is 99 percent biodegradable within a year, when it is exposed to carbon dioxide and water.) There's also the bamboo dial, as well the straps made out of organic cotton, and mercury-free batteries. Sprout watches retail for as low as $15; but if you want to splurge a little, you can check out their $80-dollar offerings.
Samsung Blue Earth Phone
We remember that it was while we were shopping for a virtual office phone system (click here) when we first came across Samsung's Blue Earth phone. At the time, we thought it was just a marketing gimmick since eco-friendly handsets tend to offer limited feature sets. We were glad to be proven wrong, as Blue Earth turned out to be as green and as awesome as Samsung said it would be. The phone's shell is made from plastic water bottles, while the rear face is fitted with solar panels. Features-wise, this baby has "a 3.2 MP camera, touch screen, music and video players, FM radio, Bluetooth, 3G and a microSDHC slot."
Green USB Flash Drive
Created in partnership with Staples, Centon's DataStick Green is made from 100 percent environment-friendly materials such as completely recyclable aluminum and plastic. According to Centon Director of Sales and Marketing Jennifer Miscione, a dollar will be donated to The ChariTREE Foundation to plant a tree in Canada for each DataStick Green USB sold. Each unit comes with a lifetime warranty and toll free tech support.
Battery-free Corky Mouse
Do you know what happens to disposable batteries used by portable, wireless mice? They usually end up in landfills as e-waste. Now, if you don't want to contribute to that problem, you can opt for a "kinetic energy-harvesting mouse that is powered with a flick of the wrist." Known as Corky, this mouse is made from recycled and biodegradable cork and 100 percent recycled plastic components. Corky was nominated in 2010 as one of the finalists in the Greener Gadgets Design Competition.